A DAKAR-INSPIRED ROYAL ENFIELD HIMALAYAN FROM FUEL
IT'S ALMOST TIME for Fuel Bespoke Motorcycles to kick off their eighth annual Scram Africa expedition. It's a 4,000 km dirt tour that happens in North Africa, specifically for classics and modern classics. So it's also a great excuse to build a new custom bike.
The Spanish shop has just buttoned up this retro-fabulous scrambler, and it suits the Scram ethos perfectly. It's based on a 2018 Royal Enfield Himalayan, chosen for its simplicity and relatively compact proportions.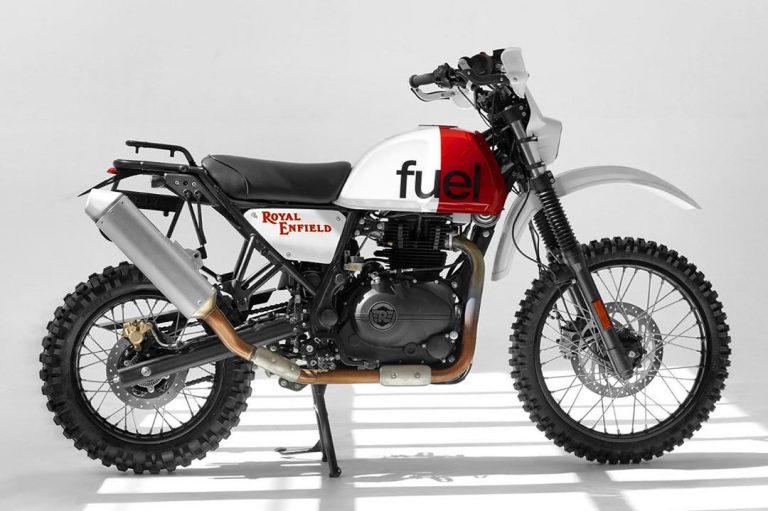 The Himalayan's 411 cc single only makes 24.5 hp and 32 Nm; they're not big numbers, but neither is the purchase price ($4,499).
"We think it can perform pretty well in the Atlas mountains and Morocco desert," says Fuel boss Karles Vives. "Speed is not as important as lightness, maneuverability and simplicity."
While the Himalayan makes sense on paper, it's a bit hard to figure out visually. Still, Karles and his team saw potential right away. "From the first time we saw the Himalayan," he says, "we thought that inside that bike there was a potential rally bike from the 80s."
"It calls to mind motorcycles like the Yamaha XT500 or Honda XL, prepared for the first editions of the Paris Dakar. Simple, light and functional bikes."
Fuel's work on the Himalayan is clever rather than exhaustive. They've kept the stock tank and most of the original subframe—but ditched the gawky headlight fairing and accompanying frame-slash-tank guards.
Up front, you'll find a classic enduro headlight and shroud, and a big ol' dirt bike fender. The crew also fitted new Tommaselli bars, and a set of burly brush guards to protect the controls in case of a tip-over.
Peek around the headlight mask, and you'll spot a small Koso speedo, a custom switch panel, and a set of foam rally grips. One of the buttons now switches the Enfield's ABS on and off; additional functionality that Fuel built in.
And there's even a USB charge port, so that whoever's piloting this scrambler can keep Instagram updated at all times (joke).
There's some trick reworking happening out back too. Fuel built a solo seat, then took off the passenger pegs—but left the brackets, so that the operation can be reversed. The original pillion area's now covered by a blank-off plate, and a removable custom-built luggage rack.
Since the area in front of the back wheel is sealed off—and the tail is quite long—there isn't really need for a big rear fender. So Fuel simply installed a minimal LED tail light and plate mount combo to round it off.
They then recycled one of the tank protectors, modded it, and mounted it on the left as a pannier bracket. There's a custom exhaust hangar on the other side, holding up the modified silencer from a Suzuki RMZ450.
Fuel also installed a Powertronic ECU to get the fueling just right—but that's as far as the performance mods go. Reliability and simplicity were key factors here. Finishing kit includes a new set of indicators, grippy foot pegs, and a set of Pirelli MT 21 Rallycross tires on the stock 21F/17R wheels. And Karles made a point of thanking his regular suppliers, and his mechanic, Carles with a 'C,' for their input on the project.
It's a no-fuss build, with an equally no-fuss livery; white, with enough red to conjure up images of the Paris Dakar's glory days. And we're betting it'd look even better traversing Moroccan sands.
"We will ride the Himalayan at the Scram Africa 2019 edition," Karles assures us. "A trip to Africa where we ride through all kind of terrains, mud, asphalt, sand… a hard test for the bikes and the riders, a real challenge!"