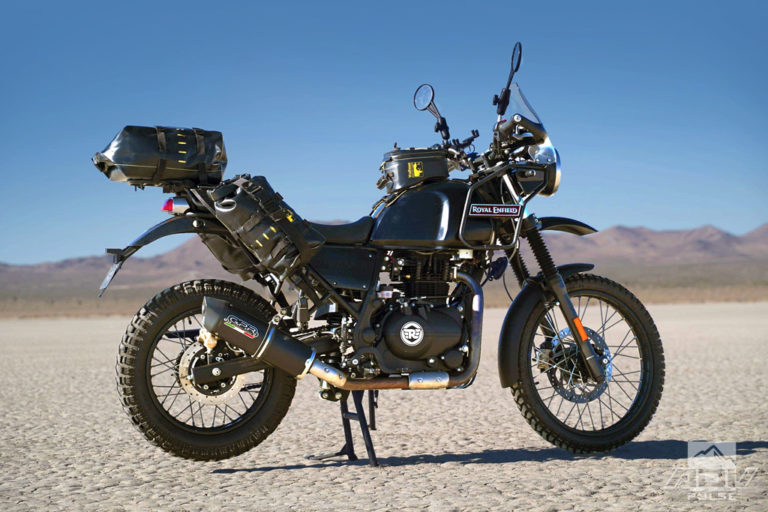 The Himalayan burst onto the scene as a unique offering compared to what Royal Enfield had traditionally built over the past many decades, and a unique bike for the adventure motorcycle segment in general. With a price point of $4,799, it leaves surplus funds for potential aftermarket upgrades to customize the bike to your aesthetic tastes, riding style and journeys as well. 
Previously, we put our Royal Enfield Himalayan project bike through its paces to suss out modifications and upgrades which would be considered "essential" for the bike, or at least highly recommended for anyone who spends much time off-road. Yet many more upgrade options for this interesting motorcycle are out there. In this next phase of building out our Himalayan, we focus on optional upgrades that improve performance, comfort and convenience. 
After a fair amount of trial and error, figuring out what works and what doesn't, we came up with a list of 10 products to enhance the Himalayan's capability. Ranking the following bits in terms of importance is left up to the individual rider's preference and intended use for the motorcycle. Read on for a description of how these products can improve the Himalayan and, of course, you can pick and choose, mix and match, upgrades based on your own personal needs.
1. PowerTRONIC Piggyback ECU – $299
PowerTRONIC makes a programmable ECU for the Himalayan, which allows you to get into the bike's electronics and tinker with the fuel mapping. As mentioned earlier, the Himalayan isn't a fire-breathing race machine, but while you're not going to turn the docile 410cc single into an R1 by pushing some buttons, there are benefits to be found in changing the characteristics of the Himalayan's fuel delivery. Plus for those who like to tinker, it's fun to have this level of control over things. 
Speed run tests using the Himalayan-specific maps downloaded from the PowerTRONIC website did reveal consistently faster timed results climbing both steep and gentle grades, although by just a few seconds. More noticeable was the improved throttle response, particularly off-the-line "snap," and a more purposeful feel on acceleration.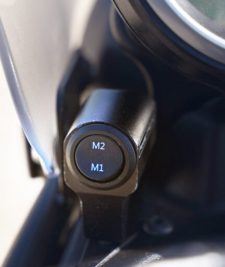 The install procedure involves several steps, and initially appears complex, however it's quite straightforward as you simply swap one connection at a time in the PowerTRONIC's wiring harness. Once the harness is in place, you have a stock coupler which both verifies the system is installed correctly and serves as a way to quickly revert back to the bike's factory stock fuel mapping. Once the Piggyback ECU is  plugged in, the bike can take advantage of whatever map has been uploaded to the unit, or select between two separate maps via the optional handlebar map switch. 
Programming the unit is done via PowerTRONIC's R-Tune software. While the ECU ships with dual pre-installed maps, other maps are downloadable from the PowerTRONIC website, and endless user-customization can be done to create one's own maps. There's even a "lock" feature in the software which can prevent a map from being copied from the ECU should you come up with a proprietary configuration you want to keep secret. Let the Himalayan track days begin!
2. Mitas E-07 Dual Sport Tires – $235.90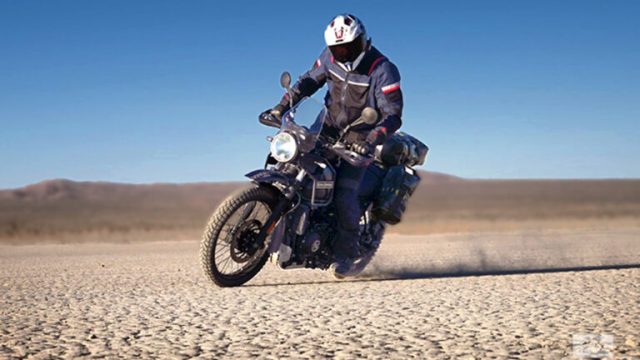 For most off-road riders, one of the primary upgrades on an adventure bike is tires. Like many bikes in this class, the Himalayan ships with a street-biased dual sport tire, specifically the Pirelli MT60. Given the Himalayan is a smaller and lower horsepower motorcycle for the adventure bike class, Pirelli's 70/30 (street/dirt) tire does the job in most situations riders will encounter aboard the little single. While grabbing a handful of throttle either on or off-road seldom results in the Himalayan's back end breaking loose and the bike getting sideways, a set of knobby-style tires will still give the Himilayan more sure-footed grip and better cornering traction in loose terrain. Knobbies will always provide greater traction in the dirt, but the traction offered by a 50/50 dual sport tire seems to match the Himalayan's character well. In spite of its comparatively lower power and price tag, the Enfield is a capable adventure bike. For a boost in off-road performance, we switched to Mitas' E-07 50/50 dual sport tires (90/90-21; 120/90-17) to increase grip without sacrificing road-going performance. We noticed a significant improvement in loose terrain where the Mitas tires helped aid forward motion better than the stock stock Pirellis, and extra cornering grip helped us avoid front-end washouts in sandy turns. Good cornering on pavement and improved bite in the dirt are welcome characteristics which enhance the already impressive abilities of this understated motorcycle, but we also appreciated the longevity of the tires. After 3,500+ miles of testing on a range of terrain, the rear E-07 still has a healthy amount of tread left. 
3. Cyclops H4 LED Headlight Bulb – $79.95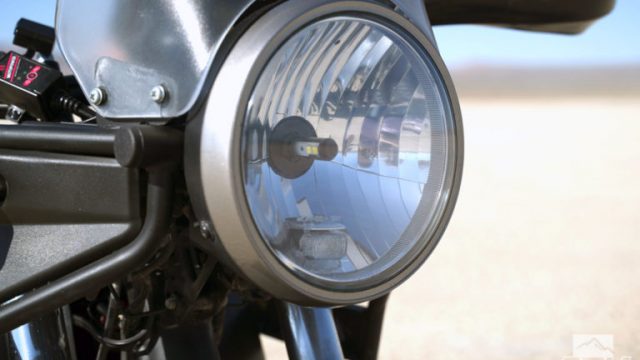 Where tires are perhaps a "necessary" modification that's obvious right away, some accessories fall into the category of "I didn't realize how necessary this was until after using it." Cyclops' H4 LED headlight bulb arguably falls into this category. Royal Enfield's history goes back to the 1950's, and six-volt electrical systems. While the Himalayan has a modern 12-volt electrical system, the stock headlight's somewhat anemic quality almost seems to borrow from the early low-power days.
Maintaining the cool look of the round headlight, and still using the stock reflector and lens, simply swapping out the stock bulb for Cyclops' H4 setup massively changes the riding experience at night. While drawing only 38 watts, the color, spread, and throw of light from the front of the motorcycle is drastically changed for the better. One could argue there's a safety aspect to this modification during daylight hours as well, as rear-view-mirror visibility to other drivers on the road is increased. 
No modifications are required to the Himalayan's headlight shroud to install the Cyclops H4, however space is tight, and cutting down the two retaining bolts (or replacing with shorter bolts) on each side of the housing make positioning the driver much easier. Going from a traditional 60-watt filament bulb to four XHP 50 emitters at over 2500 lumens is a worthwhile change. The reduced draw on the charging system (38 watts vs 60 watts) also makes room for adding additional electronic accessories like heated gear and auxiliary lights.
4. Royal Enfield Touring Seat – $69.00
Next on the list of "most obvious" changes, the thing you're sitting on would be near the top of the list. Royal Enfield's optional touring seat has both performance and aesthetic characteristics. Enfield's "3D net" technology claims to distribute weight more evenly over the seat. We noticed right away a more contoured fit that seems to eliminate any pressure points. Choice of saddle is a highly personal thing, but most riders will likely find the Himalayan's touring seat option more comfortable for long days on the bike. The durable non-slip cover featuring the Royal Enfield logo is a cool addition to an already cool looking bike. A matching passenger 'touring' seat is also available.
5. MOTOPOWER USB Power Port – $13.99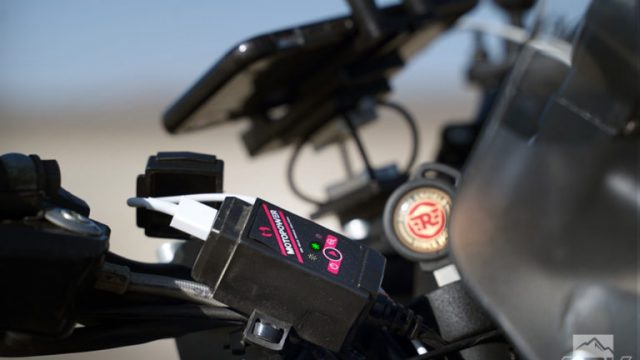 Cell phones and other small electronic devices are as much an appendage as accessory to humans in the modern era, and they require power (constantly it seems). Charging phones and other devices while riding has become commonplace over the past couple decades. The ubiquity of USB devices has led to a shift from old style "cigarette lighter" 12-volt power ports in vehicles to most now featuring more-convenient USB ports instead. While the Himalayan does not include power ports of any type, easy access to the bike's battery under the seat makes installing one a snap.
Motopower's dual-port USB option provides five volts and 3.1 amps of power, which can quickly charge not only cell phones, but tablets, GPS units, camera batteries, or just about anything else that uses a USB port. Intelligent charging circuitry identifies devices to provide optimal power levels, and the Motopower uniquely features battery status lights and an on/off switch so the unit can shut off power either automatically or manually to prevent parasitic battery drain. It comes with an SAE-style cable that is wired directly to the battery, which makes it compatible with many battery charger plugs and with a direct source of power, you can charge devices overnight without leaving the ignition on
6. Antigravity ATZ10 RE-START Li-Ion Battery – $199.99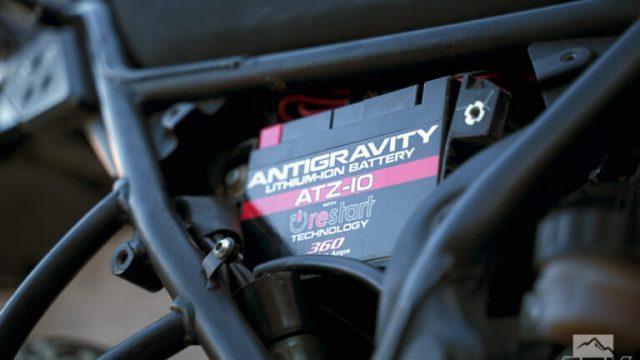 The stock Himalayan battery always felt a little weak to us, even when it was fully charged and load tested fine. If the bike was sitting for a month or so, it would sometimes go flat as well. So we decided it would be a good idea to replace it with something more powerful, like Antigravity's ATZ10 Lithium-ion battery that provides three times more Cold Cranking Amps (360) than the stock Varta lead-acid battery. 
Other benefits associated with Lithium-ion batteries can be found in things like form factor and weight. In both cases, Antigravity's ATZ10 earns big scores here. Most apparent, swapping out the Himalayan's stock battery for the ATZ10 shaves over four pounds off the machine. Sounds like a small number until you're holding both batteries at the same time and it quickly becomes apparent the Antigravity weighs less than half what the stock lead-acid power source does
Dual sets of terminals on both sides of the battery provide additional options for how and where wiring harnesses can be routed to the battery box – a convenient feature during install. The standout industry-only feature of the ATZ10 is its "RE-START" technology. Should a power drain for whatever reason render the battery flat, simply press the restart button, and the battery will jump-start itself from a reserve charge. Other advanced internal circuitry allows the ATZ10 to monitor its own status and protect from over-charging by entering a "sleep" mode when necessary.
7. K&N Performance Air Filter – $39.99
Moving inside the bike, next in our upgrade list is K&N's replacement air filter. Freer-flowing by a claimed 50%, the potential for horsepower gains are there. Given the Himalayan isn't a fire-breathing race machine, power gains might be a secondary consideration here. However, the mellow character of the 410cc single can use any help it can get, and the K&N filter is a worthy upgrade that provides multiple benefits beyond claimed power increases. Durability and reusability are key aspects of what makes this  filter an addition to consider. The fact the filter is washable makes for easy maintenance on long trips, and a cost savings over the life of the bike. A tight seal is provided by the clamp-on design, and installation is as easy as swapping out a stock filter. K&N also offers its own proprietary spray-on cleaning and oiling products that are designed to work with their air filters
8. Wolfman Waterproof Soft Luggage – $589.95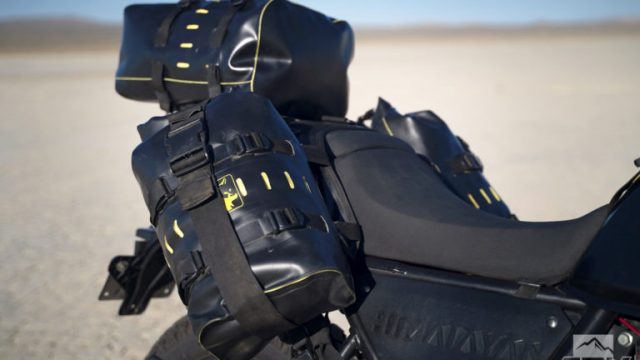 Deciding on a luggage system to haul gear during your trips is a major consideration for any adventure rider. After testing several different systems on the Himalayan, we went with Wolfman's next-gen waterproof Rolie soft bags and their Unrack System. The adaptable setup lets you strap different Rolie bags to a base harness in various ways, depending on your storage needs. And as the name suggests, it doesn't require any luggage racks. Using the B-Base (for big bikes), we strapped two medium Rolie Bags on the sides and one large Rolie on top for 44 liters of capacity. Each Rolie bag is fully waterproof without liners and comes with straps and attachment points that make it easy to add more bags in a stackable configuration. For longer trips, we'd strap on a camp chair and additional small Rolie bag to add more capacity.
We also added Wolfman's Enduro Tank Bag, which offers an additional 4 liters of capacity. Given the Himalayan's comparatively diminutive size, Wolfman's minimalist Tank Bag fits the Royal Enfield perfectly. Yet it is still large enough to stash a full-size DSLR camera inside. It features a single heavy-duty zipper and four clips that allow you to quickly remove the bag, leaving the straps on the bike. Additional features include an internal lid pocket that doubles as a fanny pack, a detachable map pocket, and a waterproof shell that doesn't need a liner. During our rides, we appreciated that the tank bag didn't interfere with our riding position while standing on the pegs. The system as a whole was rock solid stable on the trail and the bags stayed clear of the exhaust.
9. Enfield Accessories Carbon Fender Risers – $20
The unique high/low dual fender design on the Himalayan is just one of the quirky characteristics of the bike that give it a unique quality. However, that low fender can become a liability in muddy terrain. Sticky mud can build up on the tire until it begins to touch the fender, and eventually the wheel completely locks up. This can lead to either the front fender ripping off or being sent over the handlebars at an inopportune moment. To help avoid this type of situation, we added a fender riser kit from Enfield Accessories. The kit comes with a set of 15mm tall carbon fiber spacers and longer bolts that add more clearance between the tire and fender. Should you ride in a particularly muddy region, they also offer a 25mm kit to provide even more space for mud to accumulate. It's an inexpensive upgrade that is easy to install and it can save you a lot of hassle on your next mud ride.
10. Perfect Squeeze Phone Mount & Buzz-Kill – $157
Charging a phone on the road is one thing, where to put it is another. The Perfect Squeeze offers an extremely robust and secure option for bar-mounting a phone, with little fear of an "unplanned" departure. A click wheel-style adjuster moves the rubberized jaws to the appropriate size, and while it takes a few turns to get it there, the grip offered by the Perfect Squeeze is among the most solid of any style mounts available. 
For off-road or single-cylinder bike riders, the Perfect Squeeze can be mounted to a Buzz-Kill vibration isolator. Where the stock low-profile mount would attach the phone holder directly to the bars, the Buzz-Kill uses a stainless-steel "wire rope" isolation design, mounted to aluminum backing plates. This design offers both vibration and impact resistance, and lack of any rubber parts bodes well for a long service life.